Horikita Maki attends preview screening of her morning drama 'Umechan Sensei'
March 15, 2012 at 9:00 am
On March 14th, the first week worth of episodes of the upcoming NHK morning drama 'Umechan Sensei', starring Horikita Maki, was screened in advance for the press.
'Umechan Sensei' features an original story about a clumsy woman who strives to become a town doctor in an era of postwar reconstruction and rapid economic growth. In the beginning of the drama the heroine is still 16 years old, but by the end of the story she is already supposed to be in her mid-thirties. A difficult challenge for Horikita, who moreover has to tackle her first role as a doctor with this drama. The script was written by Ozaki Masaya ("Kekkon Dekinai Otoko", "Oniyome Nikki").
After the screening, Horikita said with a lot of self-confidence, "Having to think about the filming every single day does make you feel quite dizzy. I'm happy that, after several hardships, the first week is finally done. According to the feedback, it seems like we've created a wonderful drama."
Other regular characters are played by Matsuzaka Tori, Mina Mikaho, Takahashi Katsumi, Mimura, Koide Keisuke, and Baisho Mitsuko.
Takahashi Katsumi, who plays Horikita's father and a doctor at a university hospital in the drama, also attended the event. Horikita commented about him, "We've already worked together for many projects and while there are many actors I'm co-appearing with for the first time, I've felt really close to him since the beginning of the filming."
Takahashi replied, "It's the first time for us to play father and daughter, but somehow it doesn't feel out of place at all."
About the filming he added, "Many of the scenes where the whole family is together are when we are having a meal. Before the filming, we all agree to have a meal together after the filming many times. However, since we are already having meals together during the filming, we almost always end up not going after all. The mood maker of our family is Baisho. Horikita resembles her in many ways."
Horikita was surprised, "I do?"
'Umechan Sensei' is going to air every week from Monday tto Saturday at 8:00 am. There will be a total of 156 episodes, with the first one airing on April 2nd.
~translated by HPriest@TokyoHive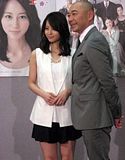 "Umechan" Posters:
Photos from Sanspo's interview:
Sources: Various news sites.
~~~~~~No copyright infringement intended.~~~~~~
Premiere day is getting closer! Wish u all the best in this drama, Maki-chan! :)
Thanks to all for the updates! I've been away so now trying to catch up. Hope u all are well! :D